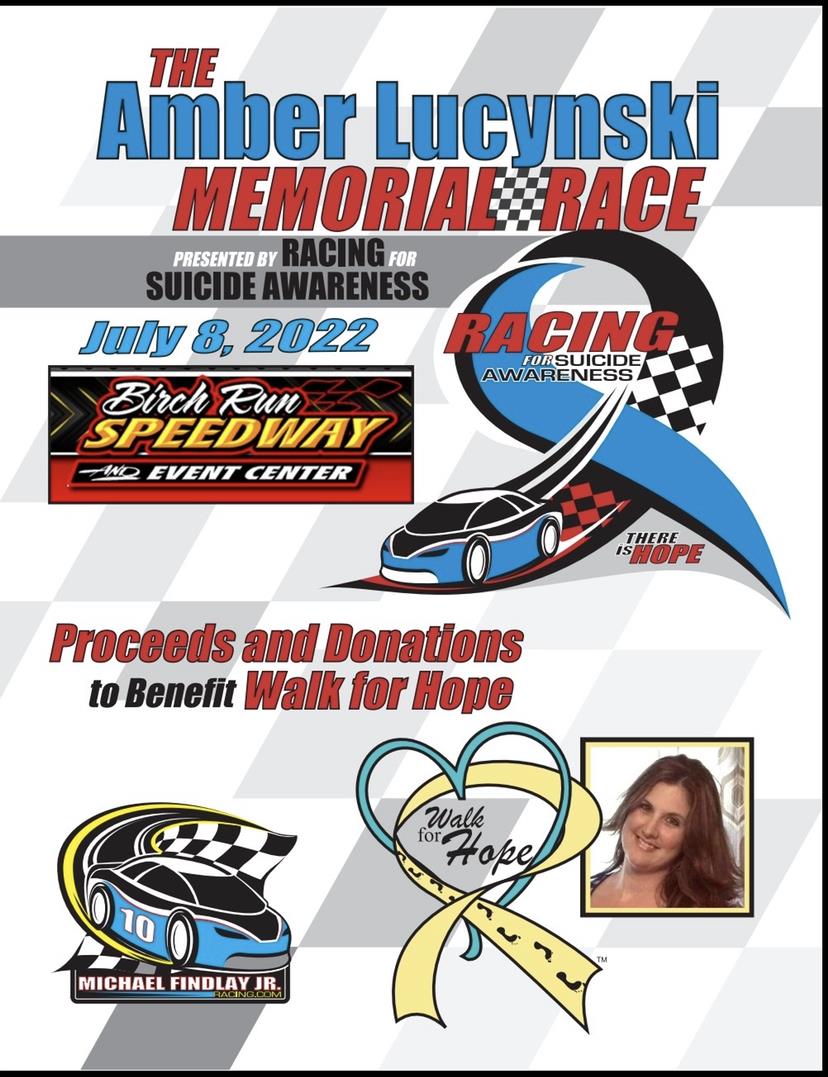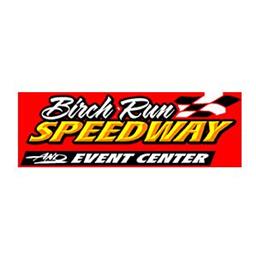 12/18/2021
Birch Run Speedway
---
Amber Lucynski Memorial Race for Suicide Awareness comes to Birch Run Speedway in 2022
Birch Run Mi - Birch Run Speedway Management has been very busy during the "off-season" We are very proud to announce that after a few meetings with Mike Findlay, he has made the decision to bring the Amber Lucynski Memorial Race for Suicide Awareness to Birch Run Speedway for 2022.
In November 2021, Mr. Findlay had a meeting with Jason Lord- General Manager, Jeff Parish - Motorsports Director and Jody Hoffmann - Marketing specialist at the Birch Run Speedway Offices. Items discussed were the nuts and bolts of the event, the history, and the very important need it had met in spreading awareness and raising funds for the Barb Smith Suicide Resource and Response Network ( https://srrn.net/ )that is functioning right here in Mid - Michigan.
Marketing meetings often focus on only the positives that can be done to help a business. This meeting had positives, many of them, but it also dealt with the very real and sobering fact of how Suicide has affected so many of us through our families and network of friends. "We all felt compelled to do what we can to help the community talk about this, and the resources available to prevent and or support the people impacted by suicide. Talking with Mike who is now trained to counsel and help people that have experienced a loss was very impactful to Jason, Jody, and Myself. We knew we had to do what we could to bring this topic out in the open and into discussion." Remarked Jeff Parish. Jody Hoffmann had this to say after the meeting: "As Mr. Findlay shared his personal grief of the suicide of his loved one, it brought back memories of difficult times that were also personal. As he confided in us, my thoughts went to....Why would someone commit suicide and how can we help? The why's are numerous. Fear, Loneliness, isolation, loss, a terminal diagnosis, etc. How can we help when the subject is often uncomfortable? The Amber Lucynski Memorial race for Suicide Awareness is to help educate the public and raise funds to support those efforts."
The decision was made to move this race to Birch Run on July 8th, 2022. Highlights talked about will include some of the following that the Findlay's have done in the past.
Trophies for winners, A silent auction or ticket fundraiser for fans using crash panels from area drivers. (Birch Run Drivers if you have a panel to donate, please contact Mike Findlay), Gift certificates for winners, A raffle for Vantage Plastics Deer blind, Lap leader monies, and more.
Birch Run Speedway General Manager Jason Lord had this to say "I'm so happy we could put this together with Mike. It's an important topic that gets overlooked too often. No matter how much effort we put into this event if it helps one person, it's worth it."
The Findlay family is no stranger to racing. We have some of Mike and Michael Jr's highlights to their careers in motorsports listed below:
Mike started helping Terry Briggs as a crew member in 1993.
In 1999 he was Factory Stock Rookie of the Year at Auto City.
The first race he won was Corn Cob 50 at the 2001 Whittemore Invite.
2012 was the year he won "The Harvest". That was C class at Spartan Speedway.
Mike won the Spartan Stock B championship in 2015.
Michael jr began racing go-karts in 2010.
2011-2014 Quarter Midgets
2015-2016 Bando
2017-2018 Mini Stock at Mt Pleasant.
2019-2021 Street Stock @ TC, Mt Pleasant & Merritt
2019 SS Rookie of the Year & 3rd in points at Tri-City.
The Barb Smith Suicide Resource & Response Network is the name of the group the Findlay family fundraises and donates to. The link below is for the home page https://srrn.net/
The date for the 2022 Walk for Hope is Sunday, August 7 at SVSU. The link below will take you to the web page for the walk
https://p2p.onecause.com/walkforhope2021
Are you in a crisis? Call 1-800-273-8255
or text HOME to 741741
Article Media
Back to News