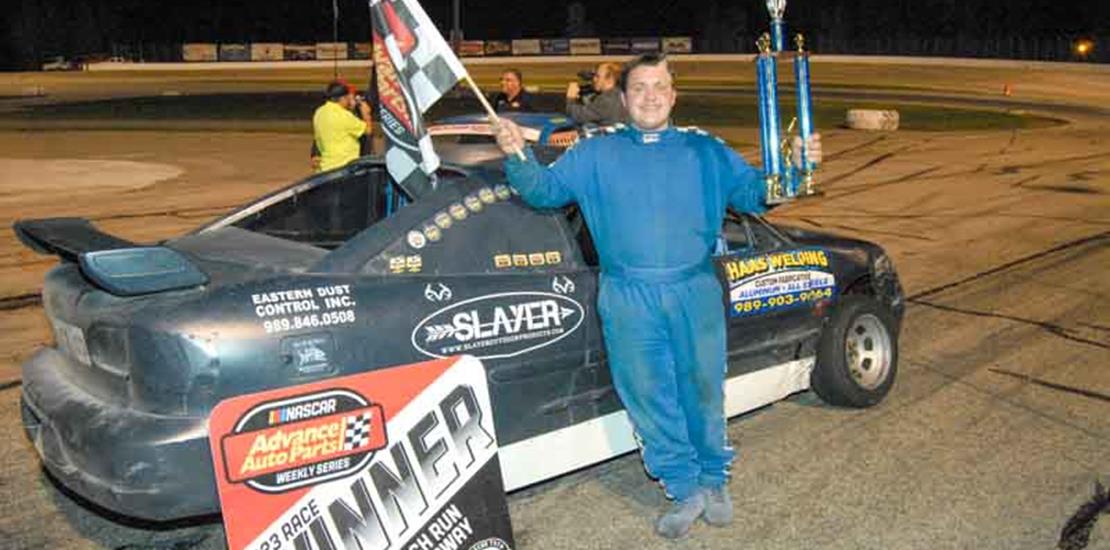 10/1/2023 -
Championship night for all but two divisions (Wheeler Trucking Friday Night Thunder Modifieds and Pierson Rd Muffler Man Mini Wedge Jr & Sr) was held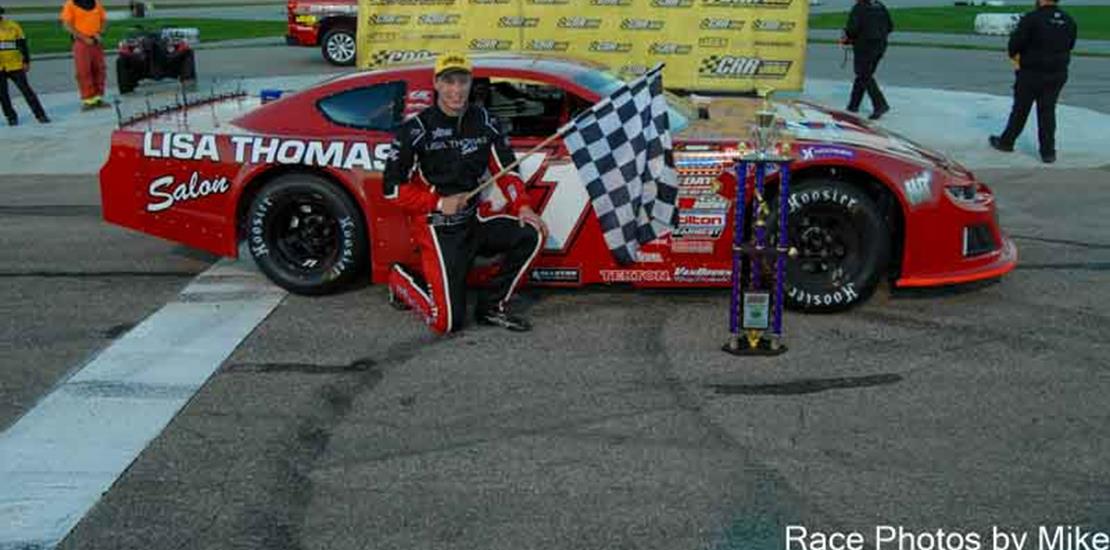 9/10/2023 -
A packed house witnessed Birch Run Speedway's "Big One" featuring the JEGS/CRA All-Stars Tour Presented by Chevrolet Performance and Reveal The Hammer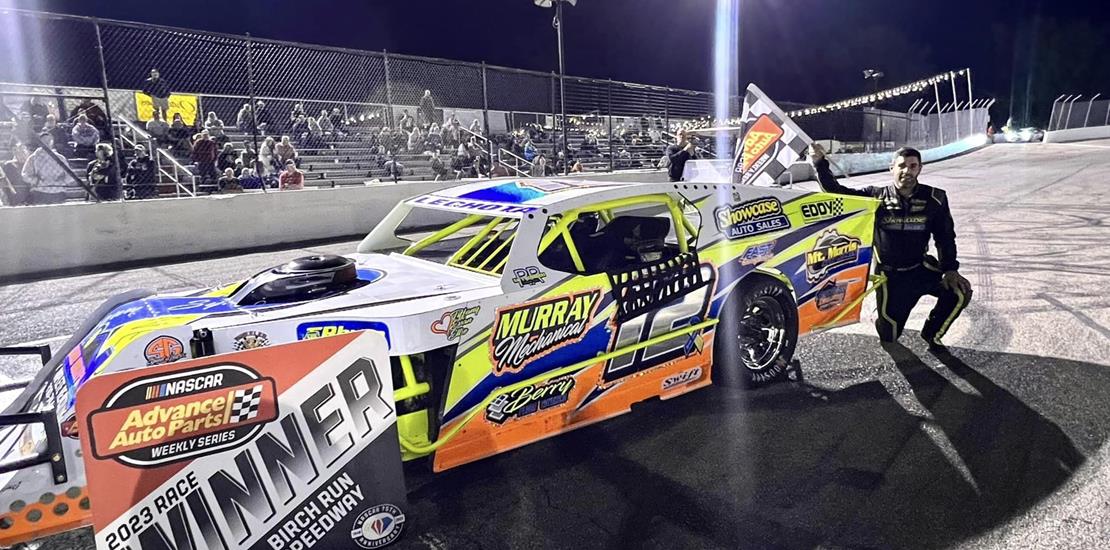 9/3/2023 -
Legends were celebrated and the racing action didn't disappoint on Driver's Homecoming 75th Anniversary Celebration night! Qualifying honors went to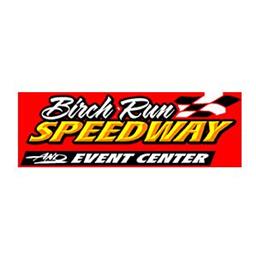 5/20/2022 - Birch Run Speedway
Birch Run, MI
MONSTER AUTO AND SCRAP EVE OF DESTRUCTION #1!
Our First Eve of Destruction of 2022! Push Cars, Pull Cars, Flag Pole, Back to School Bus Race, Power Wheels Race at Intermission. (Powerwheels rules available on website.) Mile of Mayhem, Bus Figure 8's, Trailer Fig 8's.
Good Neighbor Night for Genesee & Montrose. Genesee & Montrose residents show photo ID/Drivers license with zip code for free admission to this event!
Monster X Metals Push Cars

12 entries

Monster X Metals Pull Cars

10 entries

Monster X Metals Fig 8 Trailers

10 entries

Monster X Metals Flag Pole Cars

25 entries

Monster X Metals Back to School Cars

25 entries

Monster X Metals Mile of Mayhem

23 entries
Full Event Information on MyRacePass
Monster X Metals Push Cars
Finish
Start
#
Competitor
Hometown
+/-
1
6
422
Anthony Richardson Flint, MI
Flint, MI
5
2
12
30
Eric Gilbert Vassar, MI
Vassar, MI
10
3
9
442
Aaron Abeare Flint, MI
Flint, MI
6
4
5
219
Brent Voris New Lothrop, MI
New Lothrop, MI
1
5
8
728
Tim Richards abcd, MI
abcd, MI
3
6
4
09
Parker Mount Saginaw, MI
Saginaw, MI
-2
7
7
112
John Hitsman Jr Ottisville, MI
Ottisville, MI
-
Monster X Metals Pull Cars
Finish
Start
#
Competitor
Hometown
+/-
1
1
05
Anthony Richardson Flint, MI
Flint, MI
-
2
6
30
Eric Gilbert Vassar, MI
Vassar, MI
4
3
5
12
John Hitsman Jr Ottisville, MI
Ottisville, MI
2
4
4
728
Tim Richards abcd, MI
abcd, MI
-
5
442
Aaron Abeare Flint, MI
Flint, MI
-
6
3
219
Brent Voris New Lothrop, MI
New Lothrop, MI
-3
Monster X Metals Fig 8 Trailers
Finish
Start
#
Competitor
Hometown
+/-
1
2
18
Zack Lopez Grand Blanc, MI
Grand Blanc, MI
1
2
1
23
Darby Christensen Birch Run, MI
Birch Run, MI
-1
3
6
422
Anthony Richardson Flint, MI
Flint, MI
3
4
5
6X
Dakota Davis Perry, MI
Perry, MI
1
5
7
X75
Chris Persails abcd, MI
abcd, MI
2
6
3
33
Rodney Nettleton abcd, MI
abcd, MI
-3
7
4
30
Eric Gilbert Vassar, MI
Vassar, MI
-3
Monster X Metals Flag Pole Cars
Finish
Start
#
Competitor
Hometown
+/-
1
2
43
Paul Rigda III Birch Run, MI
Birch Run, MI
1
2
5
219
Brent Voris New Lothrop, MI
New Lothrop, MI
3
3
8
39
Destiney Biston Vassar, MI
Vassar, MI
5
4
11
112
John Hitsman Millington, MI
Millington, MI
7
5
9
92
Hudson Corl Frankenmuth, MI
Frankenmuth, MI
4
6
1
6X
Dakota Davis Perry, MI
Perry, MI
-5
7
7
73
Haven Hall abcd, MI
abcd, MI
-
Finish
Start
#
Competitor
Hometown
+/-
1
96
William Grubbs Jr Burton, MI
Burton, MI
-
2
422
Anthony Richardson Flint, MI
Flint, MI
-
3
67
Jason Dvorscak Swartz Creek, MI
Swartz Creek, MI
-
4
23
Darby Christensen Birch Run, MI
Birch Run, MI
-
5
73X
Dizel Holdenberg Byron, MI
Byron, MI
-
6
X75
Chris Persails abcd, MI
abcd, MI
-
7
121
unknown 121 abcd, MI
abcd, MI
-
8
00
Randy Wing Owosso, MI
Owosso, MI
-
9
17
Todd Nelson Vassar, MI
Vassar, MI
-
10
33
Rodney Nettleton abcd, MI
abcd, MI
-
11
18
Zack Lopez Grand Blanc, MI
Grand Blanc, MI
-
12
05
Wyatt Rowland abcd, MI
abcd, MI
-
13
442
Aaron Abeare Flint, MI
Flint, MI
-
14
27
Wade Lyvere Saginaw, MI
Saginaw, MI
-
Monster X Metals Back to School Cars
Finish
Start
#
Competitor
Hometown
+/-
1
15
422
Anthony Richardson Flint, MI
Flint, MI
14
2
5
18
Zack Lopez Grand Blanc, MI
Grand Blanc, MI
3
3
10
96
William Grubbs Jr Burton, MI
Burton, MI
7
4
2
00
Randy Wing Owosso, MI
Owosso, MI
-2
5
21
73X
Dizel Holdenberg Byron, MI
Byron, MI
16
6
19
67
Jason Dvorscak Swartz Creek, MI
Swartz Creek, MI
13
7
7
9
Parker Mount Saginaw, MI
Saginaw, MI
-
8
20
39
Destiney Biston Vassar, MI
Vassar, MI
12
9
1
05
Wyatt Rowland abcd, MI
abcd, MI
-8
10
17
728
Tim Richards abcd, MI
abcd, MI
7
11
14
12
John Hitsman Jr Ottisville, MI
Ottisville, MI
3
12
24
X75
Chris Persails abcd, MI
abcd, MI
12
13
3
70
Charlie Boone Montrose, MI
Montrose, MI
-10
14
9
43
Paul Rigda III Birch Run, MI
Birch Run, MI
-5
15
12
112
John Hitsman Millington, MI
Millington, MI
-3
16
16
6X
Dakota Davis Perry, MI
Perry, MI
-
Monster X Metals Mile of Mayhem
Finish
Start
#
Competitor
Hometown
+/-
1
9
422
Anthony Richardson Flint, MI
Flint, MI
8
2
2
43
Paul Rigda III Birch Run, MI
Birch Run, MI
-
3
11
18
Zack Lopez Grand Blanc, MI
Grand Blanc, MI
8
4
23
X75
Chris Persails abcd, MI
abcd, MI
19
5
12
67
Jason Dvorscak Swartz Creek, MI
Swartz Creek, MI
7
6
16
39
Destiney Biston Vassar, MI
Vassar, MI
10
7
5
05
Wyatt Rowland abcd, MI
abcd, MI
-2
8
18
00
Randy Wing Owosso, MI
Owosso, MI
10
9
15
6X
Dakota Davis Perry, MI
Perry, MI
6
10
3
33
Rodney Nettleton abcd, MI
abcd, MI
-7
11
14
30
Eric Gilbert Vassar, MI
Vassar, MI
3
12
13
96
William Grubbs Jr Burton, MI
Burton, MI
1
13
17
70
Charlie Boone Montrose, MI
Montrose, MI
4
14
19
73X
Dizel Holdenberg Byron, MI
Byron, MI
5
15
21
23
Darby Christensen Birch Run, MI
Birch Run, MI
6