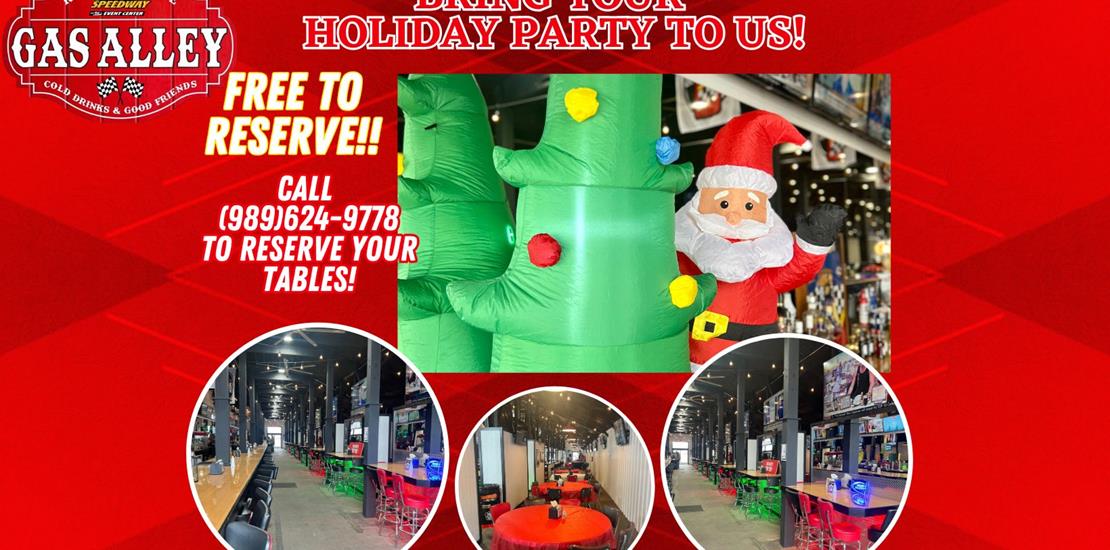 11/29/2023 -
Free reservations in Gas Alley to host your friend or family Christmas Party! Call (989)624-9778 to reserve your tables today!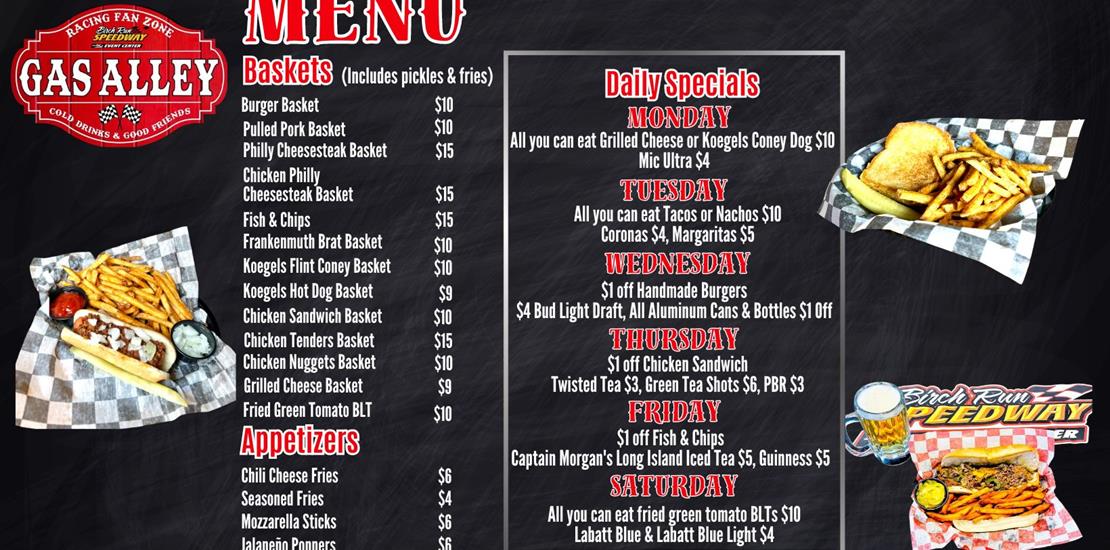 11/28/2023 -
Come visit Gas Alley Bar & Grille! Open Tuesday-Friday from 11am-10pm and Saturday 5pm-11pm. Kids eat free every day!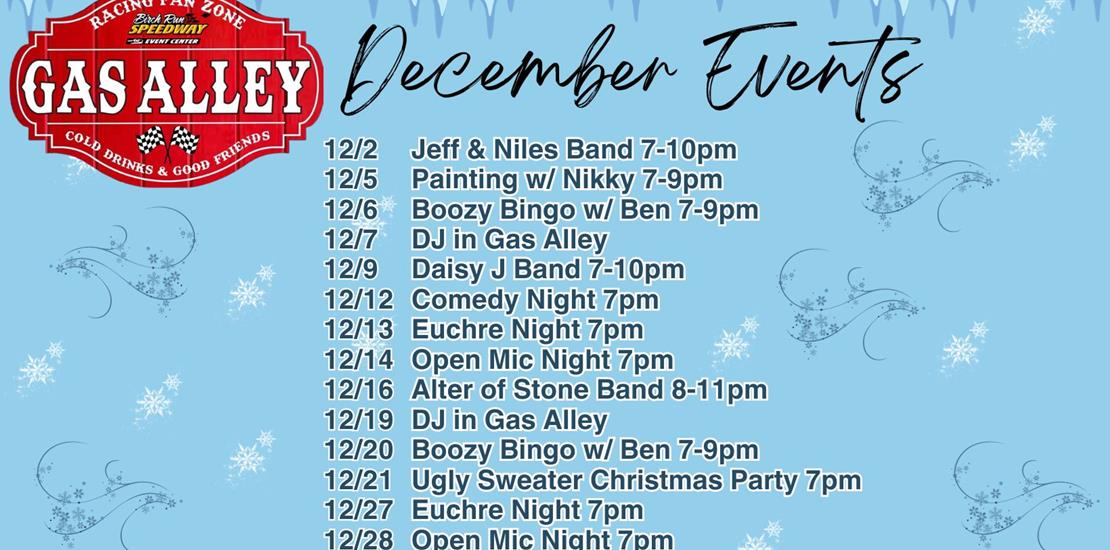 11/28/2023 -
Save the dates for some fun upcoming events at our Gas Alley Bar & Grille!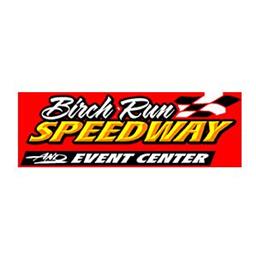 7/2/2022 - Birch Run Speedway
Birch Run, MI
Triple Crown Series JEG's CRA All-Stars (with Fireworks)
The second leg of the Triple Crown Challenge Series! 7k to win opportunity for the winner of the first leg, plus a chance at $25k if they can pull off all 3! $1500 to win Showcase Auto Sales Street Stock Invite! DTS Modifieds, American Trucks, Pure Stocks and Sport Compacts and Motor City Core F-8's!
Good Neighbor Nights of Millington and Vassar! Photo Id with Zip Codes from these towns gets in on July 2nd absolutely Free!
Mount Morris Auto Repair Modifieds

13 entries

Pure Stocks

13 entries

Street Stocks

8 entries

Mason Burgess Title Agency American Trucks

14 entries

Pro Sport Compacts

4 entries

FWD ABC

11 entries

Motor City Core Fig 8's

10 entries

JEG's CRA All-Star Tour

20 entries
Full Event Information on MyRacePass
Mount Morris Auto Repair Modifieds
Finish
Start
#
Competitor
Hometown
+/-
1
10
7
David McManus Birch Run, MI
Birch Run, MI
9
2
4
22
Kyle Hayden Clio, MI
Clio, MI
2
3
2
12X
Donny Matteson Jr Clio, MI
Clio, MI
-1
4
6
21
Robbie Johnson Birch Run, MI
Birch Run, MI
2
5
5
116
Nick Clemens Clio, MI
Clio, MI
-
6
7
22X
Aaron Taylor Jackson, MI
Jackson, MI
1
7
8
3W
Mike Luberda Jr. Augres, MI
Augres, MI
1
8
9
12
Nick Lechota Flushing, MI
Flushing, MI
1
9
1
10
Scott Clifford New Lothrop, MI
New Lothrop, MI
-8
10
11
9
Terry Trost LAKE ORION, MI
LAKE ORION, MI
1
11
3
29
Matt Maki Leonard, MI
Leonard, MI
-8
12
13
2
Rich Eady Otter Lake, MI
Otter Lake, MI
1
13
12
3D
Mike Luberda, Sr. Augres, MI
Augres, MI
-1
Finish
Start
#
Competitor
Hometown
Time
1
6
7
David McManus Birch Run, MI
Birch Run, MI
16.245
2
8
12
Nick Lechota Flushing, MI
Flushing, MI
16.329
3
11
3W
Mike Luberda Jr. Augres, MI
Augres, MI
16.491
4
12
22X
Aaron Taylor Jackson, MI
Jackson, MI
16.557
5
9
21
Robbie Johnson Birch Run, MI
Birch Run, MI
16.589
6
3
116
Nick Clemens Clio, MI
Clio, MI
16.616
7
10
22
Kyle Hayden Clio, MI
Clio, MI
16.620
8
5
29
Matt Maki Leonard, MI
Leonard, MI
16.671
9
7
12X
Donny Matteson Jr Clio, MI
Clio, MI
16.674
10
13
10
Scott Clifford New Lothrop, MI
New Lothrop, MI
16.716
11
1
9
Terry Trost LAKE ORION, MI
LAKE ORION, MI
16.736
12
2
3D
Mike Luberda, Sr. Augres, MI
Augres, MI
16.787
13
4
2
Rich Eady Otter Lake, MI
Otter Lake, MI
17.243
Pure Stocks
Finish
Start
#
Competitor
Hometown
+/-
1
6
05
Andrew Burton Flint, MI
Flint, MI
5
2
9
14
Kyle Callahan Midland, MI
Midland, MI
7
3
8
M15
Lonnie Saumier Davison, MI
Davison, MI
5
4
7
73
Hunter Doutre Flushing, MI
Flushing, MI
3
5
3
22
Mike Mosier Mount Morris, MI
Mount Morris, MI
-2
6
5
3
Don Garrison Sanford, MI
Sanford, MI
-1
7
4
5
Brent Voris New Lothrop, MI
New Lothrop, MI
-3
8
2
07
Lincoln Dunkerson Vassar, MI
Vassar, MI
-6
9
10
222
Coty Montrall Otisville, MI
Otisville, MI
1
10
1
97
Anthony Williams Flint, MI
Flint, MI
-9
11
11
81
Tim Kirby Clio, MI
Clio, MI
-
12
12
34
Mark Martinez Swartz Creek, MI
Swartz Creek, MI
-
13
13
0
Don Jackson
-
Finish
Start
#
Competitor
Hometown
Time
1
2
14
Kyle Callahan Midland, MI
Midland, MI
17.009
2
6
M15
Lonnie Saumier Davison, MI
Davison, MI
17.280
3
10
73
Hunter Doutre Flushing, MI
Flushing, MI
17.339
4
1
05
Andrew Burton Flint, MI
Flint, MI
17.353
5
3
3
Don Garrison Sanford, MI
Sanford, MI
17.528
6
7
5
Brent Voris New Lothrop, MI
New Lothrop, MI
17.582
7
5
22
Mike Mosier Mount Morris, MI
Mount Morris, MI
17.779
8
11
07
Lincoln Dunkerson Vassar, MI
Vassar, MI
18.125
9
13
97
Anthony Williams Flint, MI
Flint, MI
18.267
10
4
222
Coty Montrall Otisville, MI
Otisville, MI
18.380
11
9
81
Tim Kirby Clio, MI
Clio, MI
18.399
12
12
34
Mark Martinez Swartz Creek, MI
Swartz Creek, MI
19.080
13
8
0
Don Jackson
26.348
Street Stocks
Finish
Start
#
Competitor
Hometown
+/-
1
8
9
Jim Miller Jr Clio, MI
Clio, MI
7
2
3
M15
Lonnie Saumier Davison, MI
Davison, MI
1
3
4
0
Adam Rowe Davison, MI
Davison, MI
1
4
5
65
Jeff Owens Montrose, MI
Montrose, MI
1
5
7
77
David Damon Mt. Morris, MI
Mt. Morris, MI
2
6
2
25
Jesse Collinge Burt, MI
Burt, MI
-4
7
6
57
Maverick Morrow Otisville, MI
Otisville, MI
-1
8
1
15
Robert Hiney Clio, MI
Clio, MI
-7
Finish
Start
#
Competitor
Hometown
Time
1
4
65
Jeff Owens Montrose, MI
Montrose, MI
15.638
2
5
0
Adam Rowe Davison, MI
Davison, MI
15.833
3
3
M15
Lonnie Saumier Davison, MI
Davison, MI
15.893
4
8
9
Jim Miller Jr Clio, MI
Clio, MI
16.200
5
7
57
Maverick Morrow Otisville, MI
Otisville, MI
16.236
6
1
25
Jesse Collinge Burt, MI
Burt, MI
16.386
7
6
15
Robert Hiney Clio, MI
Clio, MI
16.852
8
2
77
David Damon Mt. Morris, MI
Mt. Morris, MI
16.954
Mason Burgess Title Agency American Trucks
Finish
Start
#
Competitor
Hometown
+/-
1
5
422
Anthony Richardson Flint, MI
Flint, MI
4
2
7
38
Greg Long Jr Grand Blanc, MI
Grand Blanc, MI
5
3
3
21
Gregory Long III Grand Blanc, MI
Grand Blanc, MI
-
4
2
47X
Joseph Shamel Clio, MI
Clio, MI
-2
5
6
47
Dan Shamel Clio, MI
Clio, MI
1
6
4
067
Josh DeLong Clio, MI
Clio, MI
-2
7
8
43
Paul Rigda III Birch Run, MI
Birch Run, MI
1
8
11
95
Cameron Delong Clio, MI
Clio, MI
3
9
9
S23
Josh Shaw Flint, MI
Flint, MI
-
10
10
70
Charlie Boone Montrose, MI
Montrose, MI
-
11
14
44T
Tim Crabb Millington, MI
Millington, MI
3
12
13
19
Dustin Hitsman Clio, MI
Clio, MI
1
13
12
8
Ryan Hunn N/A, MI
N/A, MI
-1
DQ
1
85
Tony Hart Lansing, MI
Lansing, MI
-
Finish
Start
#
Competitor
Hometown
Time
1
7
38
Greg Long Jr Grand Blanc, MI
Grand Blanc, MI
18.256
2
3
47
Dan Shamel Clio, MI
Clio, MI
18.327
3
10
422
Anthony Richardson Flint, MI
Flint, MI
18.357
4
12
067
Josh DeLong Clio, MI
Clio, MI
18.377
5
6
21
Gregory Long III Grand Blanc, MI
Grand Blanc, MI
18.382
6
4
47X
Joseph Shamel Clio, MI
Clio, MI
18.420
7
1
85
Tony Hart Lansing, MI
Lansing, MI
18.460
8
13
43
Paul Rigda III Birch Run, MI
Birch Run, MI
18.826
9
8
S23
Josh Shaw Flint, MI
Flint, MI
19.037
10
5
70
Charlie Boone Montrose, MI
Montrose, MI
19.117
11
11
95
Cameron Delong Clio, MI
Clio, MI
19.123
12
2
8
Ryan Hunn N/A, MI
N/A, MI
19.363
13
14
19
Dustin Hitsman Clio, MI
Clio, MI
20.774
Pro Sport Compacts
Finish
Start
#
Competitor
Hometown
Time
1
3
11J
Jason Jones Livonia, MI
Livonia, MI
16.599
2
1
36
Billy Luckhurst Owosso, MI
Owosso, MI
16.739
3
4
XLR8
Kurt Schmidt Bay City, MI
Bay City, MI
17.950
FWD ABC
Finish
Start
#
Competitor
Hometown
+/-
1
8
53
Mike Schmidt Midland, MI
Midland, MI
7
2
5
777
Gary Koepke Hale, MI
Hale, MI
3
3
7
12
Eric James Clinton Township, MI
Clinton Township, MI
4
4
4
3
Mike Koepke Hale, MI
Hale, MI
-
5
2
05
Cole Koepke Whittemore, MI
Whittemore, MI
-3
6
1
47
David Smith Davison, MI
Davison, MI
-5
7
3
54
Corbin Kelley Pompeii, MI
Pompeii, MI
-4
8
6
14
Jeff Asmus Asm, MI
Asm, MI
-2
9
9
55
Anthony Duvernois Mount Morris, MI
Mount Morris, MI
-
10
10
B3
William Blohm Mas, MI
Mas, MI
-
11
11
6X
Dan Hassard Saginaw, MI
Saginaw, MI
-
Finish
Start
#
Competitor
Hometown
Time
1
9
53
Mike Schmidt Midland, MI
Midland, MI
17.989
2
1
12
Eric James Clinton Township, MI
Clinton Township, MI
18.170
3
4
14
Jeff Asmus Asm, MI
Asm, MI
18.308
4
7
777
Gary Koepke Hale, MI
Hale, MI
18.319
5
8
3
Mike Koepke Hale, MI
Hale, MI
18.367
6
2
54
Corbin Kelley Pompeii, MI
Pompeii, MI
18.548
7
6
05
Cole Koepke Whittemore, MI
Whittemore, MI
18.624
8
10
47
David Smith Davison, MI
Davison, MI
18.751
9
5
6X
Dan Hassard Saginaw, MI
Saginaw, MI
19.163
10
3
55
Anthony Duvernois Mount Morris, MI
Mount Morris, MI
19.297
11
11
B3
William Blohm Mas, MI
Mas, MI
19.464
Motor City Core Fig 8's
Finish
Start
#
Competitor
Hometown
+/-
1
8
05
Andrew Burton Flint, MI
Flint, MI
7
2
6
422
Anthony Richardson Lansing, MI
Lansing, MI
4
3
7
97
Anthony Williams Flint, MI
Flint, MI
4
4
3
43
Paul Rigda III Birch Run, MI
Birch Run, MI
-1
5
1
44T
Tim Crabb Millington, MI
Millington, MI
-4
6
9
12
John Hitsman Jr Ottisville, MI
Ottisville, MI
3
7
2
22
Mike Mosier Mount Morris, MI
Mount Morris, MI
-5
8
5
112
John Hitsman Millington, MI
Millington, MI
-3
JEG's CRA All-Star Tour
Finish
Start
#
Competitor
Hometown
+/-
1
3
14
Carson Hocevar Portage, MI
Portage, MI
2
2
4
71
Katie Hettinger Dryden, MI
Dryden, MI
2
3
5
50
Kyle Crump Brighton, MI
Brighton, MI
2
4
2
18
Chase Burda Lapeer, MI
Lapeer, MI
-2
5
6
28
Kevin Cremonesi Clarkston, MI
Clarkston, MI
1
6
11
12
Dan Leeck Birch Run, MI
Birch Run, MI
5
7
1
22
Jimmy Tucker Mount Clemens, MI
Mount Clemens, MI
-6
8
7
20
Ethan Stadniczuk Lambertville, MI
Lambertville, MI
-1
9
16
13
Nick Egan Slinger, WI
Slinger, WI
7
10
13
61
Evan Varney Richmond, MI
Richmond, MI
3
11
14
5
Brett Robinson New Albary, IN
New Albary, IN
3
12
15
01
James Krueger
3
13
10
33
Albert Francis Painesville, OH
Painesville, OH
-3
14
17
28L
Dave Liaeff Holland, MI
Holland, MI
3
15
18
1D
Brandon Tregembo Ray TWP, MI
Ray TWP, MI
3
16
8
08
Nicholas Naugle Dartmouth, NS
Dartmouth, NS
-8
17
9
47
Dakota Stroup Maceo, KY
Maceo, KY
-8
18
19
42
Tyler MacKenzie Maidstone, SK
Maidstone, SK
1
19
12
1
Jon Beach Watervliet, MI
Watervliet, MI
-7
Finish
Start
#
Competitor
Hometown
Time
1
10
50
Kyle Crump Brighton, MI
Brighton, MI
15.526
2
16
71
Katie Hettinger Dryden, MI
Dryden, MI
15.709
3
1
14
Carson Hocevar Portage, MI
Portage, MI
15.716
4
8
18
Chase Burda Lapeer, MI
Lapeer, MI
15.760
5
7
22
Jimmy Tucker Mount Clemens, MI
Mount Clemens, MI
15.789
6
17
28
Kevin Cremonesi Clarkston, MI
Clarkston, MI
15.792
7
15
20
Ethan Stadniczuk Lambertville, MI
Lambertville, MI
15.813
8
6
08
Nicholas Naugle Dartmouth, NS
Dartmouth, NS
15.819
9
14
47
Dakota Stroup Maceo, KY
Maceo, KY
15.854
10
3
33
Albert Francis Painesville, OH
Painesville, OH
15.858
11
4
12
Dan Leeck Birch Run, MI
Birch Run, MI
15.876
12
18
1
Jon Beach Watervliet, MI
Watervliet, MI
15.926
13
11
61
Evan Varney Richmond, MI
Richmond, MI
15.959
14
12
5
Brett Robinson New Albary, IN
New Albary, IN
15.988
15
9
01
James Krueger
15.998
16
5
13
Nick Egan Slinger, WI
Slinger, WI
16.053
17
2
28L
Dave Liaeff Holland, MI
Holland, MI
16.165
18
13
1D
Brandon Tregembo Ray TWP, MI
Ray TWP, MI
16.394