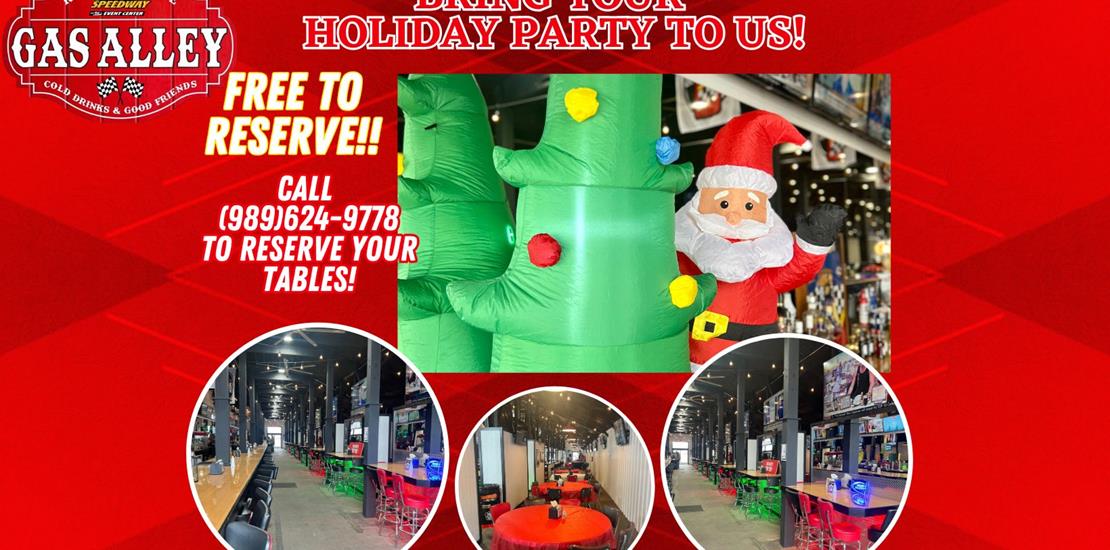 11/29/2023 -
Free reservations in Gas Alley to host your friend or family Christmas Party! Call (989)624-9778 to reserve your tables today!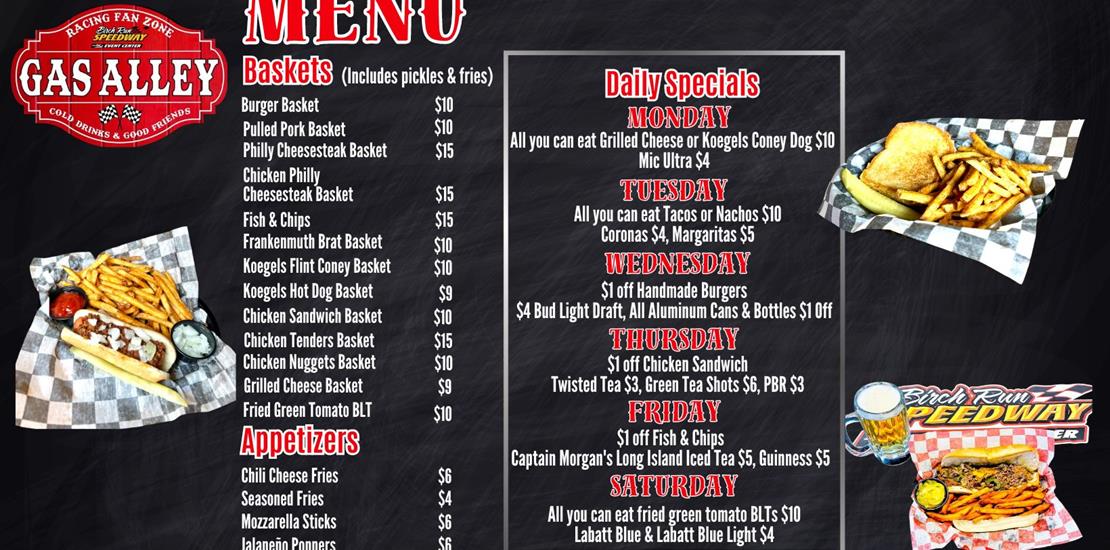 11/28/2023 -
Come visit Gas Alley Bar & Grille! Open Tuesday-Friday from 11am-10pm and Saturday 5pm-11pm. Kids eat free every day!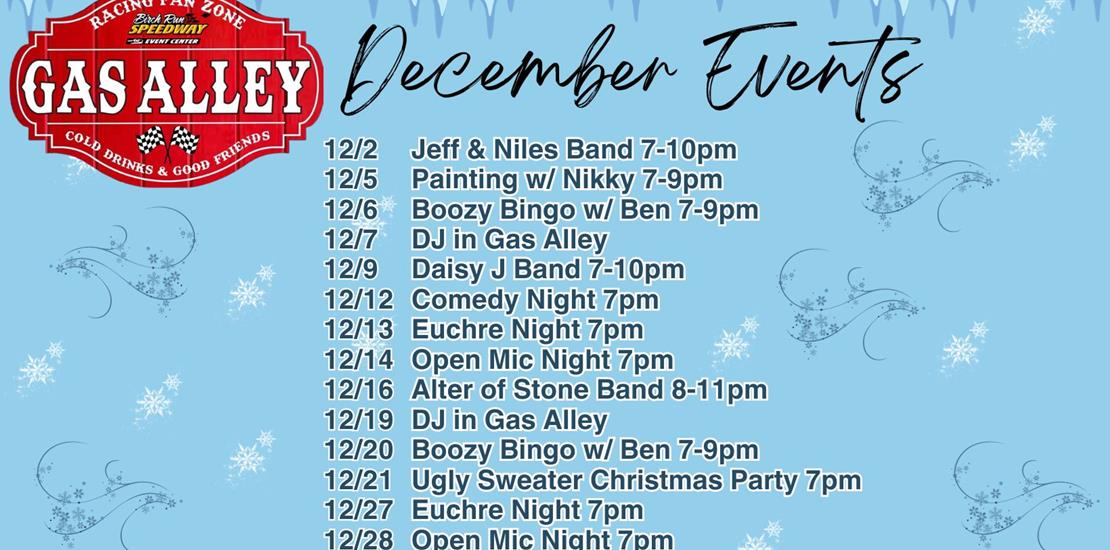 11/28/2023 -
Save the dates for some fun upcoming events at our Gas Alley Bar & Grille!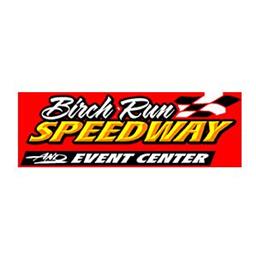 8/5/2022 - Birch Run Speedway
Birch Run, MI
Wheelman 50 Sportsman Make Up Night Plus Modifieds
Modified heat races and 30 lap feature. Wheelman 50 (laps) for the sportsman division on the 4/10 mile! 5 classes battling it out on the short track and Motor City Core Figure-8.
Good Neighbor Towns of Davison, Fenton and Clio! Show your photo ID with Zip Code to receive Free Admission!
Mount Morris Auto Repair Modifieds

13 entries

Sportsman

7 entries

Pure Stocks

9 entries

Street Stocks

7 entries

Mason Burgess Title Agency American Trucks

13 entries

Pro Sport Compacts

4 entries

FWD ABC

7 entries

Motor City Core Fig 8's

10 entries
Full Event Information on MyRacePass
Mount Morris Auto Repair Modifieds
Finish
Start
#
Competitor
Hometown
+/-
1
7
21
Robbie Johnson Birch Run, MI
Birch Run, MI
6
2
6
116
Nick Clemens Clio, MI
Clio, MI
4
3
9
7
David McManus Birch Run, MI
Birch Run, MI
6
4
8
12X
Donny Matteson Jr Clio, MI
Clio, MI
4
5
10
1W
Mike Luberda Jr. Augres, MI
Augres, MI
5
6
11
29
Matt Maki Leonard, MI
Leonard, MI
5
7
1
1
Rick Wiecorek Mt. Morris, MI
Mt. Morris, MI
-6
8
12
2
Rich Eady Otter Lake, MI
Otter Lake, MI
4
9
5
12W
Luke Warhurst Dexter, MI
Dexter, MI
-4
10
3
12
Nick Lechota Flushing, MI
Flushing, MI
-7
11
2
39
Dave Christensen Clio, MI
Clio, MI
-9
12
13
30
Mike Luberda, Sr. Augres, MI
Augres, MI
1
Finish
Start
#
Competitor
Hometown
Time
1
4
1W
Mike Luberda Jr. Augres, MI
Augres, MI
16.363
2
8
7
David McManus Birch Run, MI
Birch Run, MI
16.365
3
7
12X
Donny Matteson Jr Clio, MI
Clio, MI
16.414
4
2
21
Robbie Johnson Birch Run, MI
Birch Run, MI
16.420
5
1
116
Nick Clemens Clio, MI
Clio, MI
16.474
6
10
12W
Luke Warhurst Dexter, MI
Dexter, MI
16.501
7
9
5
Matt Mueller Auburn, MI
Auburn, MI
16.625
8
3
12
Nick Lechota Flushing, MI
Flushing, MI
16.683
9
13
39
Dave Christensen Clio, MI
Clio, MI
16.720
10
11
1
Rick Wiecorek Mt. Morris, MI
Mt. Morris, MI
16.777
11
6
29
Matt Maki Leonard, MI
Leonard, MI
16.949
12
12
2
Rich Eady Otter Lake, MI
Otter Lake, MI
17.191
13
5
30
Mike Luberda, Sr. Augres, MI
Augres, MI
17.376
Sportsman
Finish
Start
#
Competitor
Hometown
+/-
1
6
2A
Fred Cummings Jr. Bridgeport, MI
Bridgeport, MI
5
2
2
88
Hunter Forrester Clarkston, MI
Clarkston, MI
-
3
5
81
Larry Plamondon Clio, MI
Clio, MI
2
4
1
K9
Jim Miller Sr Lake City, MI
Lake City, MI
-3
5
3
32
Casey Snover Mt. Morris, MI
Mt. Morris, MI
-2
6
7
15
Robert Hiney Clio, MI
Clio, MI
1
Finish
Start
#
Competitor
Hometown
Time
1
1
2A
Fred Cummings Jr. Bridgeport, MI
Bridgeport, MI
17.197
2
4
81
Larry Plamondon Clio, MI
Clio, MI
17.447
3
5
44
Kevin Harder West Branch, MI
West Branch, MI
17.480
4
6
32
Casey Snover Mt. Morris, MI
Mt. Morris, MI
17.558
5
2
88
Hunter Forrester Clarkston, MI
Clarkston, MI
17.600
6
3
K9
Jim Miller Sr Lake City, MI
Lake City, MI
17.934
Pure Stocks
Finish
Start
#
Competitor
Hometown
+/-
1
9
M15
Lonnie Saumier Davison, MI
Davison, MI
8
2
8
73
Hunter Doutre Flushing, MI
Flushing, MI
6
3
6
05
Andrew Burton Flint, MI
Flint, MI
3
4
7
0
Andy Shelters Vassar, MI
Vassar, MI
3
5
4
22
Mike Mosier Mount Morris, MI
Mount Morris, MI
-1
6
5
3
Don Garrison Sanford, MI
Sanford, MI
-1
7
2
97
Anthony Williams Flint, MI
Flint, MI
-5
8
1
98
Caleb Beechler Flushing, MI
Flushing, MI
-7
9
3
36
Jon Parish Springport, MI
Springport, MI
-6
Finish
Start
#
Competitor
Hometown
Time
1
5
M15
Lonnie Saumier Davison, MI
Davison, MI
17.345
2
2
73
Hunter Doutre Flushing, MI
Flushing, MI
17.391
3
6
0
Andy Shelters Vassar, MI
Vassar, MI
17.416
4
1
05
Andrew Burton Flint, MI
Flint, MI
17.568
5
3
3
Don Garrison Sanford, MI
Sanford, MI
17.574
6
7
22
Mike Mosier Mount Morris, MI
Mount Morris, MI
17.751
7
4
36
Jon Parish Springport, MI
Springport, MI
17.768
8
8
97
Anthony Williams Flint, MI
Flint, MI
17.793
9
9
98
Caleb Beechler Flushing, MI
Flushing, MI
18.044
Street Stocks
Finish
Start
#
Competitor
Hometown
+/-
1
7
9
Jim Miller Jr Clio, MI
Clio, MI
6
2
4
65
Jeff Owens Montrose, MI
Montrose, MI
2
3
6
M15
Lonnie Saumier Davison, MI
Davison, MI
3
4
2
15
Robert Hiney Clio, MI
Clio, MI
-2
5
3
25
Jesse Collinge Burt, MI
Burt, MI
-2
6
5
0
Adam Rowe Davison, MI
Davison, MI
-1
Finish
Start
#
Competitor
Hometown
Time
1
4
M15
Lonnie Saumier Davison, MI
Davison, MI
15.848
2
3
0
Adam Rowe Davison, MI
Davison, MI
16.019
3
2
65
Jeff Owens Montrose, MI
Montrose, MI
16.302
4
5
25
Jesse Collinge Burt, MI
Burt, MI
16.456
5
6
15
Robert Hiney Clio, MI
Clio, MI
16.733
6
7
98
rick smith abcd, MI
abcd, MI
16.784
Mason Burgess Title Agency American Trucks
Finish
Start
#
Competitor
Hometown
+/-
1
8
067
Josh DeLong Clio, MI
Clio, MI
7
2
12
47X
Joseph Shamel Clio, MI
Clio, MI
10
3
6
95
Cameron Delong Clio, MI
Clio, MI
3
4
9
47
Dan Shamel Clio, MI
Clio, MI
5
5
7
S23
Josh Shaw Flint, MI
Flint, MI
2
6
5
21
Gregory Long III Grand Blanc, MI
Grand Blanc, MI
-1
7
4
3
Zachary Ahrns Flint, MI
Flint, MI
-3
8
3
38
Greg Long Jr Grand Blanc, MI
Grand Blanc, MI
-5
9
1
44T
Tim Crabb Millington, MI
Millington, MI
-8
10
13
19
Dustin Hitsman Clio, MI
Clio, MI
3
11
2
22
Brian Dougherty Flushing, MI
Flushing, MI
-9
12
10
51
Rickie Gillett Gill, MI
Gill, MI
-2
13
11
88
Jerod Carl Montrose, MI
Montrose, MI
-2
Finish
Start
#
Competitor
Hometown
Time
1
5
47
Dan Shamel Clio, MI
Clio, MI
18.133
2
2
067
Josh DeLong Clio, MI
Clio, MI
18.384
3
7
S23
Josh Shaw Flint, MI
Flint, MI
18.562
4
1
95
Cameron Delong Clio, MI
Clio, MI
18.564
5
3
21
Gregory Long III Grand Blanc, MI
Grand Blanc, MI
18.618
6
11
3
Zachary Ahrns Flint, MI
Flint, MI
18.641
7
4
38
Greg Long Jr Grand Blanc, MI
Grand Blanc, MI
18.803
8
10
22
Brian Dougherty Flushing, MI
Flushing, MI
19.125
9
6
44T
Tim Crabb Millington, MI
Millington, MI
19.379
10
8
51
Rickie Gillett Gill, MI
Gill, MI
19.945
11
9
88
Jerod Carl Montrose, MI
Montrose, MI
20.796
FWD ABC
Finish
Start
#
Competitor
Hometown
+/-
1
6
53
Mike Schmidt Midland, MI
Midland, MI
5
2
5
777
Gary Koepke Hale, MI
Hale, MI
3
3
3
14
Jeff Asmus Asm, MI
Asm, MI
-
4
4
05
Cole Koepke Whittemore, MI
Whittemore, MI
-
5
7
3
Mike Koepke Hale, MI
Hale, MI
2
6
2
89
Abby Kolb St. Charles, MI
St. Charles, MI
-4
7
1
55
Anthony Duvernois Mount Morris, MI
Mount Morris, MI
-6
Finish
Start
#
Competitor
Hometown
Time
1
7
53
Mike Schmidt Midland, MI
Midland, MI
17.828
2
4
777
Gary Koepke Hale, MI
Hale, MI
18.246
3
3
05
Cole Koepke Whittemore, MI
Whittemore, MI
18.496
4
1
14
Jeff Asmus Asm, MI
Asm, MI
18.542
5
6
89
Abby Kolb St. Charles, MI
St. Charles, MI
18.941
6
5
3
Mike Koepke Hale, MI
Hale, MI
19.442
7
2
55
Anthony Duvernois Mount Morris, MI
Mount Morris, MI
19.442
Motor City Core Fig 8's
Finish
Start
#
Competitor
Hometown
+/-
1
10
05
Andrew Burton Flint, MI
Flint, MI
9
2
9
97
Anthony Williams Flint, MI
Flint, MI
7
3
3
30
Eric Gilbert Vassar, MI
Vassar, MI
-
4
2
44T
Tim Crabb Millington, MI
Millington, MI
-2
5
6
12
John Hitsman Jr Ottisville, MI
Ottisville, MI
1
6
4
19
Dustin Hitsman Clio, MI
Clio, MI
-2
7
5
112
John Hitsman Millington, MI
Millington, MI
-2
8
8
43
Paul Rigda III Birch Run, MI
Birch Run, MI
-
9
1
88
Jerod Carl Montrose, MI
Montrose, MI
-8
10
7
22
Mike Mosier Mount Morris, MI
Mount Morris, MI
-3