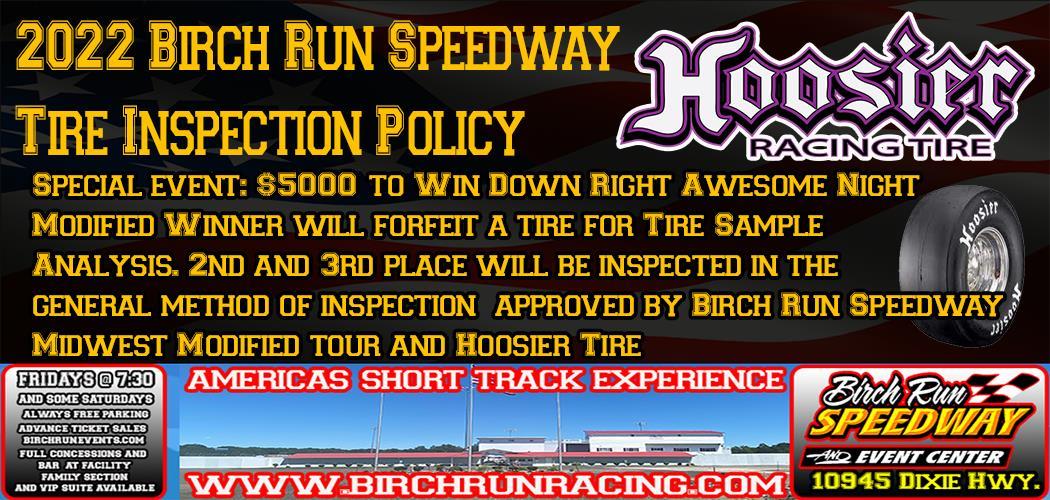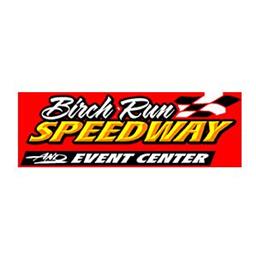 6/2/2022
Birch Run Speedway
---
2022 Down Right Awesome Night Tire Inspection Policy
Upon arrival at the track - A tire sampling agreement to race will be signed. Tires from outside purchase will be presented in the tech barn for breakdown, hydrocarbon sniffed, powdered, barcode scanned of the serial number and stenciled with track stencil and coloring. You must run these tires for your scuff, qualifying and feature event.
Tires from inside facility sales will be handled in the same fashion.
WITHOUT EXCEPTION THE WINNING MODIFIED WILL FORFEIT A TIRE OF THE TRACKS CHOOSING FOR INDEPENDENT LAB ANALYSIS BY BLUE RIDGE LABS.
1.The tire will be handled by a tire inspector with driver and 1 crew member only present.
It will be heated to 200 degrees, the durometer reading recorded, and a 5 second cool down will occur and a second reading recorded. An ambient temp durometer reading will be recorded as well. The inspector will wear latex gloves at all times during the inspection, extraction of samples and bagging of the sampling in evidence bags.
At approximate 90* intervals, a 2"x2" square will be removed (cut with a new knife) from 3 locations on the tire, and bagged individually as it is removed from the tire. The sample bag will contain the event date, the event location, The Hoosier compound of tire (f70 only), the date of manufacture of the tire. The bag will be sealed containing the 3 sample pieces. The driver will sign the sample bag. That bag will be placed in another new clean evidence bag, sealed, taped shut and tape signed by the driver. The bag will be presented by tech inspector to the Motorsports Director of Birch Run Speedway. The Motorsports Director of Birch Run Speedway will send the sample by registered courier to Blue Ridge Laboratory. The winning car will be paid by check. The driver will retain and hold the check without deposit until inspection is complete. If upon inspection the tire does not meet conforming data standards, the driver would forfeit the check to the next finisher. The A main feature would be notified by registration contact information and moved up 1 finishing spot through the order and compensated by adjustment check to their registration address on file.

2nd and 3rd place cars will be durometer inspected in the method described in step 1. If the tires on their cars are non-conforming, samples will be collected and sent for further analysis.
Any technical question regarding this policy should be sent to jeffparish@birchrunracing.com or text 989.395.0933
---
Article Credit: Jeff Parish
Submitted By: Jeff Parish
Back to News