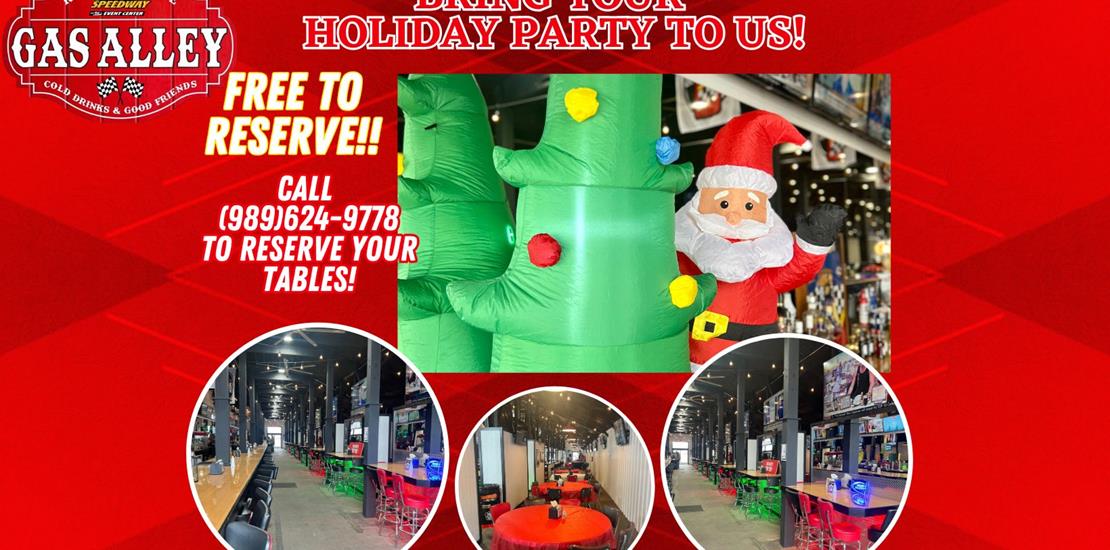 11/29/2023 -
Free reservations in Gas Alley to host your friend or family Christmas Party! Call (989)624-9778 to reserve your tables today!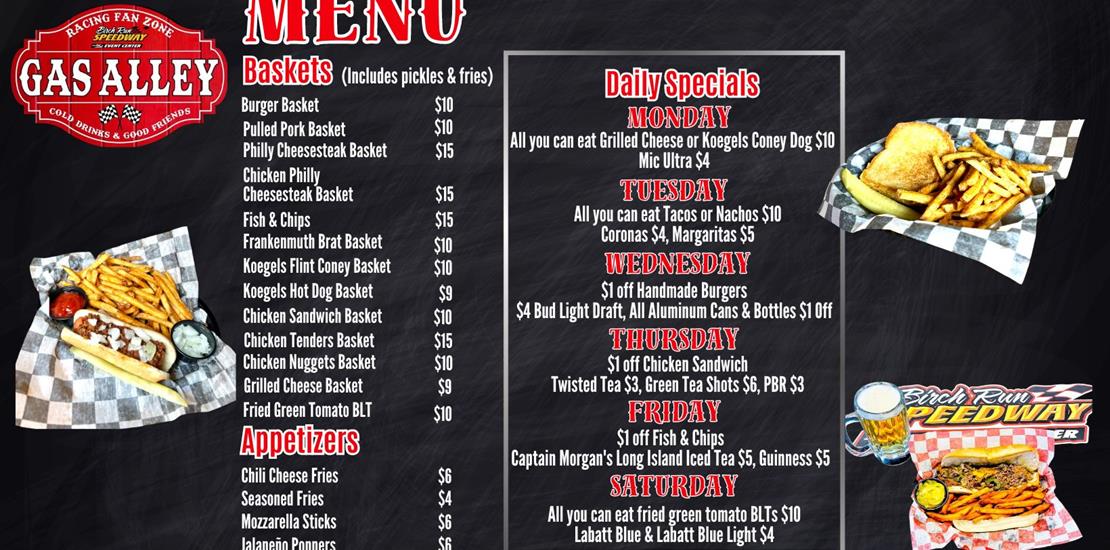 11/28/2023 -
Come visit Gas Alley Bar & Grille! Open Tuesday-Friday from 11am-10pm and Saturday 5pm-11pm. Kids eat free every day!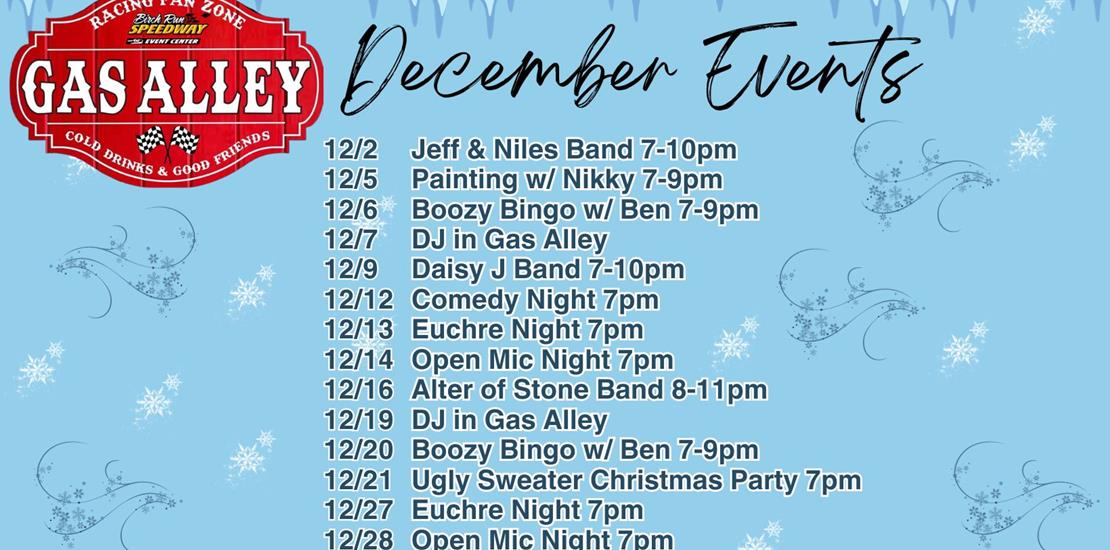 11/28/2023 -
Save the dates for some fun upcoming events at our Gas Alley Bar & Grille!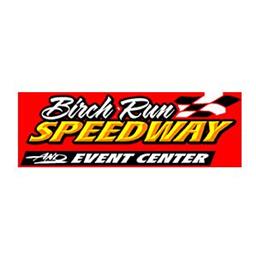 9/11/2021 - Birch Run Speedway
Birch Run, MI
Outlaw Super Late Models - The Dixie Classic/Season Championships
Features only. 100 laps of Superlate model racing plus championship night for our local divisions!
Mount Morris Auto Repair Modifieds

14 entries

Sportsman
Pure Stocks

12 entries

Street Stocks
Mason Burgess Title Agency American Trucks

10 entries

Pro Sport Compacts

18 entries

JEG's CRA All-Star Tour

17 entries
Full Event Information on MyRacePass
Mount Morris Auto Repair Modifieds
Finish
Start
#
Competitor
Hometown
+/-
1
116
Nick Clemens Clio, MI
Clio, MI
-
2
37
Trevor Berry Clio, MI
Clio, MI
-
3
7
David McManus Birch Run, MI
Birch Run, MI
-
4
35
Evan Foster Clarkston, MI
Clarkston, MI
-
5
81
Larry Plamondon Clio, MI
Clio, MI
-
6
9
Terry Trost LAKE ORION, MI
LAKE ORION, MI
-
7
3
Alex Donnert Swartz Creek, MI
Swartz Creek, MI
-
8
43
Ken O'Connor Elkton, MI
Elkton, MI
-
9
22
Kyle Hayden Clio, MI
Clio, MI
-
10
30
Mike Luberda, Sr. Augres, MI
Augres, MI
-
11
1
Rick Wiecorek Mt. Morris, MI
Mt. Morris, MI
-
12
29
Matt Maki Leonard, MI
Leonard, MI
-
13
12
Luke Warhurst Dexter, MI
Dexter, MI
-
Finish
Start
#
Competitor
Hometown
Time
1
8
7
David McManus Birch Run, MI
Birch Run, MI
16.073
2
4
35
Evan Foster Clarkston, MI
Clarkston, MI
16.173
3
1
37
Trevor Berry Clio, MI
Clio, MI
16.217
4
2
116
Nick Clemens Clio, MI
Clio, MI
16.225
5
3
3
Alex Donnert Swartz Creek, MI
Swartz Creek, MI
16.243
6
10
81
Larry Plamondon Clio, MI
Clio, MI
16.255
7
11
9
Terry Trost LAKE ORION, MI
LAKE ORION, MI
16.342
8
5
22
Kyle Hayden Clio, MI
Clio, MI
16.350
9
12
12
Luke Warhurst Dexter, MI
Dexter, MI
16.463
10
7
29
Matt Maki Leonard, MI
Leonard, MI
16.511
11
6
30
Mike Luberda, Sr. Augres, MI
Augres, MI
16.556
12
13
1
Rick Wiecorek Mt. Morris, MI
Mt. Morris, MI
16.790
All transfer
Pure Stocks
Finish
Start
#
Competitor
Hometown
+/-
1
7
73
Hunter Doutre Flushing, MI
Flushing, MI
6
2
10
14
Kyle Callahan Midland, MI
Midland, MI
8
3
9
M15
Lonnie Saumier Davison, MI
Davison, MI
6
4
8
05
Andrew Burton Flint, MI
Flint, MI
4
5
6
0
Andy Shelters Vassar, MI
Vassar, MI
1
6
5
J1
Jordan Lechota Mount Morris, MI
Mount Morris, MI
-1
7
4
11
Jake Pearson N/A, MI
N/A, MI
-3
8
3
54
Randy Clayton N/A, MI
N/A, MI
-5
9
97
Anthony Williams Flint, MI
Flint, MI
-
10
2
222
Coty Montrall Otisville, MI
Otisville, MI
-8
11
1
81
Tim Kirby Clio, MI
Clio, MI
-10
12
11
55
Jason Spencer Owosso, MI
Owosso, MI
-1
Finish
Start
#
Competitor
Hometown
Time
1
2
14
Kyle Callahan Midland, MI
Midland, MI
17.378
2
9
M15
Lonnie Saumier Davison, MI
Davison, MI
17.571
3
1
05
Andrew Burton Flint, MI
Flint, MI
17.604
4
4
73
Hunter Doutre Flushing, MI
Flushing, MI
17.625
5
10
0
Andy Shelters Vassar, MI
Vassar, MI
17.729
6
6
J1
Jordan Lechota Mount Morris, MI
Mount Morris, MI
17.753
7
8
11
Jake Pearson N/A, MI
N/A, MI
17.865
8
3
54
Randy Clayton N/A, MI
N/A, MI
18.376
9
5
81
Tim Kirby Clio, MI
Clio, MI
18.950
All transfer
Mason Burgess Title Agency American Trucks
Finish
Start
#
Competitor
Hometown
+/-
1
067
Josh DeLong Clio, MI
Clio, MI
-
2
47
Dan Shamel Clio, MI
Clio, MI
-
3
38
Greg Long Jr Grand Blanc, MI
Grand Blanc, MI
-
4
43
Paul Rigda III Birch Run, MI
Birch Run, MI
-
5
S23
Josh Shaw Flint, MI
Flint, MI
-
6
47X
Joseph Shamel Clio, MI
Clio, MI
-
7
70
Charlie Boone Montrose, MI
Montrose, MI
-
8
18
Zac Lopez N/A, MI
N/A, MI
-
9
8
Ryan Hunn N/A, MI
N/A, MI
-
10
21
Gregory Long III Grand Blanc, MI
Grand Blanc, MI
-
Finish
Start
#
Competitor
Hometown
Time
1
2
067
Josh DeLong Clio, MI
Clio, MI
18.422
2
4
21
Gregory Long III Grand Blanc, MI
Grand Blanc, MI
18.691
3
7
43
Paul Rigda III Birch Run, MI
Birch Run, MI
18.786
4
5
38
Greg Long Jr Grand Blanc, MI
Grand Blanc, MI
18.904
5
9
47X
Joseph Shamel Clio, MI
Clio, MI
18.973
6
8
47
Dan Shamel Clio, MI
Clio, MI
19.002
7
10
S23
Josh Shaw Flint, MI
Flint, MI
19.010
8
6
18
Zac Lopez N/A, MI
N/A, MI
19.072
9
1
70
Charlie Boone Montrose, MI
Montrose, MI
19.112
10
3
8
Ryan Hunn N/A, MI
N/A, MI
19.940
All transfer
Pro Sport Compacts
Finish
Start
#
Competitor
Hometown
+/-
1
86
Jason Jones Livonia, MI
Livonia, MI
-
2
2C
Craig Cummings Owosso, MI
Owosso, MI
-
3
6
Pat Dent Lansing, MI
Lansing, MI
-
4
1
Sam Epling Bankroft, MI
Bankroft, MI
-
5
XLR8
Kurt Schmidt Bay City, MI
Bay City, MI
-
6
A12
Eric James Clinton Township, MI
Clinton Township, MI
-
7
76
Jordan Gustin Holly, MI
Holly, MI
-
8
69
Randy Moore Ashley, MI
Ashley, MI
-
9
54
Corbin Kelley Pompeii, MI
Pompeii, MI
-
10
14A
Jeffrey Asmus Swartz Creek, MI
Swartz Creek, MI
-
11
777
Gary Koepke Hale, MI
Hale, MI
-
12
44
Blake Gokee Owosso, MI
Owosso, MI
-
13
00
Mike Koepke Hale, MI
Hale, MI
-
14
5
Cole Koepke Whittemore, MI
Whittemore, MI
-
15
47
Ron Crawford Tawas, MI
Tawas, MI
-
16
14
Trevor Banny Essexville, MI
Essexville, MI
-
17
45
Jeremy Green Hale, MI
Hale, MI
-
18
74
Burt Langosch Fowlerville, MI
Fowlerville, MI
-
Finish
Start
#
Competitor
Hometown
Time
1
7
44
Blake Gokee Owosso, MI
Owosso, MI
17.829
2
5
6
Pat Dent Lansing, MI
Lansing, MI
17.866
3
16
69
Randy Moore Ashley, MI
Ashley, MI
17.877
4
11
54
Corbin Kelley Pompeii, MI
Pompeii, MI
17.958
5
4
2C
Craig Cummings Owosso, MI
Owosso, MI
18.043
6
17
XLR8
Kurt Schmidt Bay City, MI
Bay City, MI
18.221
7
10
86
Jason Jones Livonia, MI
Livonia, MI
18.305
8
6
1
Sam Epling Bankroft, MI
Bankroft, MI
18.432
9
76
Jordan Gustin Holly, MI
Holly, MI
18.471
10
1
14A
Jeffrey Asmus Swartz Creek, MI
Swartz Creek, MI
18.621
11
9
A12
Eric James Clinton Township, MI
Clinton Township, MI
18.622
12
13
777
Gary Koepke Hale, MI
Hale, MI
18.685
13
12
5
Cole Koepke Whittemore, MI
Whittemore, MI
18.983
14
14
00
Mike Koepke Hale, MI
Hale, MI
19.023
15
3
47
Ron Crawford Tawas, MI
Tawas, MI
19.150
16
2
14
Trevor Banny Essexville, MI
Essexville, MI
19.281
17
15
74
Burt Langosch Fowlerville, MI
Fowlerville, MI
19.611
18
8
45
Jeremy Green Hale, MI
Hale, MI
19.674
All transfer
JEG's CRA All-Star Tour
Finish
Start
#
Competitor
Hometown
+/-
1
6
74
Dan Leeck Birch Run, MI
Birch Run, MI
5
2
7
6
Shawn Amor Walkerton, IN
Walkerton, IN
5
3
10
72
Scott Hantz
7
4
12
16P
Claude Plante
8
5
8
9
Mike Root
3
6
13
P51
Scott Pemberton Lansing, MI
Lansing, MI
7
7
14
97
Josh Hahn Saginaw, MI
Saginaw, MI
7
8
9
18
Alex Hagon Lennon, MI
Lennon, MI
1
9
2
16
Trevor Berry Clio, MI
Clio, MI
-7
10
3
71
Harold Fair Jr Livonia, MI
Livonia, MI
-7
11
11
116
Jack Varney Jr
-
12
5
14
Steve Needles Berrien Springs, MI
Berrien Springs, MI
-7
13
4
50
Kyle Crump Brighton, MI
Brighton, MI
-9
14
1
24
Tyler Roahrig Plymouth, IN
Plymouth, IN
-13
15
15
Brian Maxim Sparta, MI
Sparta, MI
-
Finish
Start
#
Competitor
Hometown
Time
1
14
24
Tyler Roahrig Plymouth, IN
Plymouth, IN
14.385
2
2
16
Trevor Berry Clio, MI
Clio, MI
14.498
3
4
71
Harold Fair Jr Livonia, MI
Livonia, MI
14.603
4
11
14
Steve Needles Berrien Springs, MI
Berrien Springs, MI
14.621
5
50
Kyle Crump Brighton, MI
Brighton, MI
14.621
6
9
74
Dan Leeck Birch Run, MI
Birch Run, MI
14.759
7
1
6
Shawn Amor Walkerton, IN
Walkerton, IN
14.778
8
15
9
Mike Root
14.873
9
6
18
Alex Hagon Lennon, MI
Lennon, MI
14.896
10
8
72
Scott Hantz
14.897
11
16
116
Jack Varney Jr
15.025
12
13
16P
Claude Plante
15.068
13
12
P51
Scott Pemberton Lansing, MI
Lansing, MI
15.132
14
7
97
Josh Hahn Saginaw, MI
Saginaw, MI
15.349
All transfer